Monthly Meeting – Thursday, October 19, 2023: CHINA'S ECONOMIC INFLUENCE IN THE WORLD
Topic: China's Economic Influence in the World
Speaker: Dr. Zenel Garcia
Overview: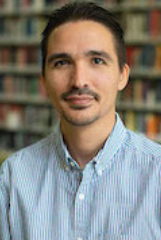 Dr. Zenel Garcia is an Associate Professor of Security Studies in the Department of National Security and Strategy at the U.S. Army War College. He and his mother left Cuba in 1994 on a boat headed toward the Cayman Islands. The goal was to reach Miami. They spent six months in a refugee camp in the Cayman Islands and were sent back to Guantanamo Bay. From there, Zenel – only eight years old at the time – was transported to Miami to receive medical attention after developing severe stomach problems from ready-to-eat meals. In Miami, Zenel earned his bachelor's degree in international relations and Asian studies from Florida International University (FIU) in 2010. With his family's encouragement, he pursued a joint master's degree in Asian Studies (completed in 2014) and completed a Ph.D. in international relations at the university.
His research focuses on the intersection of international relations theory, security, and geopolitics. Specifically, how interpretations of security and the geopolitical environment shape the policy preferences of states in the Indo-Pacific and Eurasia regions. He is the author of China's Western Frontier and Eurasia: The Politics of State and Region-Building (Routledge 2021) and China's Military Modernization, Japan's Normalization and the South China Sea Territorial Disputes (Palgrave 2019). He has also published several peer-reviewed articles focused on the impacts of Chinese foreign policy.
Zenel spoke to us last year on China and Taiwan and was very well received!
FPA Coordinator: Alan Stolberg
Venue:
The Susquehanna Club
Menu:
House Salad
Chicken Florentine
Whipped Potatoes
Mushroom Buttons
Chocolate Cake with Peanut Butter Icing
Social hour & Dinner Information
5:30-6:30pm Social Hour
6:30-7:30 Dinner
7:30pm—Announcement, Speaker followed by question and answer session
Cost for FPA Members: $33.00
We Welcome Non-members to attend dinners.
The non-member cost is: $38.00
There is no charge for anyone to attend the program presentation only, beginning at 7:30 PM.
Dinner co-chairmen for October are Dan Sim and Ron Pontius.
Reservations must be made by 10:00am on the Monday before the meeting. To make an October reservation, fill out the form below or telephone or email Ron Pontius at (717) 991-0899 or ronpon@comcast.net
To CANCEL an October reservation, please telephone or email Ron Pontius at (717) 991-0899 or ronpon@comcast.net. Please be sure to give your complete name, address and phone number.
If you come for dinner as a "Walk-in" without a reservation, we cannot guarantee you the selected entrée. You will be provided a meal, but it may be chef's selection.
NOTE: We bill "No-shows"
Please Register Now