Monthly Meeting – Thursday, September 21, 2023: NATO AND ITS FUTURE
Topic: NATO and its Future
Speaker: Dr. Chris Dolan
Overview: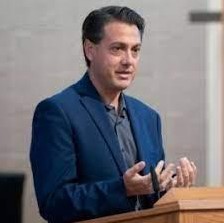 Dr. Chris J. Dolan is Professor and Director of the Master of Science program in Intelligence and Security Studies and Director of the Center of Political History at Lebanon Valley College in Pennsylvania.
He is the recipient of two Fulbright U.S. Scholar awards. In the Republic of North Macedonia (2021-2022), he taught courses on the rule of law and civil society and conducted research on defense and foreign policy and the geopolitical and security implications of Euro-Atlantic integration. In the Republic of Kosovo (2019-2020), he taught courses on world politics and Euro-Atlantic integration and conducted research on NATO accession and normalization of relations between Kosovo and Serbia.
Dolan is fluent in Russian and intermediate-level in Albanian and Spanish. He also serves as faculty director in the Center for European Studies at Maastricht University in the Netherlands and research associate with the Centre for Political Courage at the University of Prishtina and Kosovar Centre for Security Studies in Kosovo.
Dolan is the author of Obama and the Emergence of a Multipolar World Order (Rowman and Littlefield, 2018) and In War We Trust (Ashgate, 2005) and co-author of The Presidency and Economic Policy (Rowman and Littlefield, 2009) and Striking First (Palgrave-Macmillan, 2004). His latest book, The Politics of U.S. Foreign Policy and NATO: Continuity and Change from the Cold War to China was just recently published (Palgrave-Macmillan).
His academic articles have been published in more than thirty peer-reviewed academic journals and in chapters in edited books. He is an expert member of the White House Transition Project and serves on the board of the World Affairs Council and is a member of the Foreign Policy Association.
In 2018, Dolan received the Thomas Rhys Vickroy Distinguished Teaching Award and the Educator of the Year award in 2019. Dr. Dolan received his PhD in government and international studies at the University of South Carolina, M.A. in political science at Northeastern University, and B.A. in political science with a minor in Russian studies at Siena College. Dolan also regularly writes articles on foreign policy, international relations, and American politics for The Hill, Newsweek, and the PA Capital Star.
FPA Coordinator: Alan Stolberg
Venue:
The Susquehanna Club
Menu:
Roast pork loin
Mashed potatoes and gravy
Green beens almandine
Tossed salad
Rolls, Butter, Coffee, Water and Hot Tea
Apple pie
Social hour & Dinner Information
5:30-6:30pm Social Hour
6:30-7:30 Dinner
7:30pm—Announcement, Speaker followed by question and answer session
Cost for FPA Members: $33.00
We Welcome Non-members to attend dinners.
The non-member cost is: $38.00
There is no charge for anyone to attend the program presentation only, beginning at 7:30 PM.
Dinner co-chairmen for September are Dan Sim and Ron Pontius.
Reservations must be made by 10:00am on the Monday before the meeting. To make a September reservation, fill out the form below or telephone or email Ron Pontius at (717) 991-0899 or ronpon@comcast.net
To CANCEL a September reservation, please telephone or email Ron Pontius at (717) 991-0899 or ronpon@comcast.net. Please be sure to give your complete name, address and phone number.
If you come for dinner as a "Walk-in" without a reservation, we cannot guarantee you the selected entrée. You will be provided a meal, but it may be chef's selection.
NOTE: We bill "No-shows"
Please Register Now