Monthly Meeting – TUESDAY, December 12, 2023: KOSOVO AND THE BALKANS
Topic: Kosovo and the Balkans
Speaker: Ambassador Blerim Reka
Overview: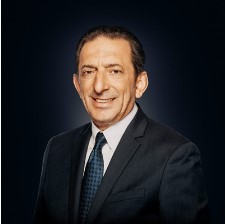 Ambassador Reka is currently the Mission Head for the Consulate General of the Republic of Kosovo in New York City. He was a previous candidate for President of the Republic of North Macedonia. Ambassador Reka has also served in several high-level government positions in Kosovo and North Macedonia and had multiple positions as an author, university professor, and former ambassador.
A long-time expert on the Balkans, he held several influential and legal advisory positions, to include as Kosovo's Minister for European Union Integration and as Ambassador of the Republic of Macedonia to the European Union in Brussels. He was also the Advisor to the Kosovo President for EU Integration; Member of Kosovo's Parliamentary Expert Committee for Foreign Relations; Member of the Macedonian Government's Legal Council; and Member of Macedonia's Expert Team for the drafting of the National Strategy for Integration into the EU.
As a member of Macedonia's Parliamentary Constitutional Committee, Dr. Reka drafted constitutional amendments providing the legal authorities for the 2001 Ohrid Framework Agreement, the peace agreement signed by the Macedonian government and representatives of the internal Albanian minority. As a member of the constitutional expert team of the United Nations Special Representative of the Secretary-General for Kosovo, he also helped draft the Constitutional Framework for Kosovo
In addition, the Ambassador was a professor of International Public Law, EU Law, and International Relations at the University for Business and Technology in Pristina and the author of 20 books; the latest of which is "Balkans Geopolitics: From Cold War to Hot Peace," published in 2020.
Ambassador Reka holds bachelor's and master's degrees in Civil and Economic Law from the University of Pristina (Kosovo's capital) and Ph.D.in International Public Law from the University of Graz in Austria.
Finally, he was a Fulbright senior fellow in International Law at the University of Southern California in Los Angeles, and a graduate of the Harvard Executive Program at the John F. Kennedy School of Government.
FPA Coordinator: Chris Dolan
Venue:
The Susquehanna Club
Menu:
House Salad
Top Round of Beef with Gravy
Roasted Potatoes
Glazed Baby Carrots
Carrot Cake
Rolls, butter, coffee, water, and hot tea
Social hour & Dinner Information
5:30-6:30pm Social Hour
6:30-7:30 Dinner
7:30pm—Announcement, Speaker followed by question and answer session
Cost for FPA Members: $33.00
We Welcome Non-members to attend dinners.
The non-member cost is: $38.00
There is no charge for anyone to attend the program presentation only, beginning at 7:30 PM.
Dinner co-chairmen for December are Dan Sim and Ron Pontius.
Reservations must be made by 10:00am on the Thursday before the meeting. To make a December reservation, fill out the form below or telephone or email Ron Pontius at (717) 991-0899 or ronpon@comcast.net
To CANCEL an December reservation, please telephone or email Ron Pontius at (717) 991-0899 or ronpon@comcast.net. Please be sure to give your complete name, address and phone number.
If you come for dinner as a "Walk-in" without a reservation, we cannot guarantee you the selected entrée. You will be provided a meal, but it may be chef's selection.
NOTE: We bill "No-shows"
Please Register Now